THE KOI
THE KOI CRUISER
The official KOI cruiser. This board is handcrafted using cutting-edge technology and old-school woodworking techniques. The design features custom artwork carved into our patented Underbite grip. This is a natural product, so wood grain may vary.
As per our return policy, boards are final sale items.
Ships Immediately
Deck dimensions: 8.75" × 30" 

ARTISTS:
Rupert Gruber, Bear Walker


Life is better with a Bear Walker board.
A Bear Walker board is more than a skateboard, it's a statement of fearless individuality. A Bear Walker board is designed and created just for you, and its uniqueness and quality is evident in every ride.
@magicrobots
This. Looks. DOPE.
Holy shit you guys. I know @bearwalkerofficial's stuff looks sick online but when you hold it in your hands it is a whole other level of incredible. If you were thinking about getting something from him frigg'n do it immediately.
04/27/2019
Dez Guillermo
AMAZING customer service.
Shipping address was wrong but was helped immediately and was able to get my boards sent to me in no time. HIGHLY recommend!
03/23/2019
Brandon Evan
Exceptional quality.
Can't thank Bear Walker and his company enough for this amazing board. Nothing but compliments on both boards. The Flash Board is signed by GRANT GUSTIN, who plays "The Flash/Barry Allen" on the TV show of the same name. Couldn't ask for a more awesome board, or deal with a better company.
03/06/2019
AJ Augustine
Craftsmanship as high quality as this deserves to be supported.
If you're like me, you'd spend every waking moment you possibly could with your feet on a board. If you're passionate about skateboarding, you NEED a Bear Walker board. Going for a ride is never just a ride, it's a bliss filled experience that feels both too short, as well as never-ending.
09/18/2018
Jim Dodson
Absolutely insane work.
Huge shout out to Bear Walker Boards for creating this custom board for us!
04/07/2018
How your board is made.
Take a peek behind the curtain to see how the magic happens.
01
Design
Get down to details.
We custom design all of our boards in house. Whether it's a limited edition, stock or custom, we designed it.
02
Cutout
Bring in the robots.
We use a two-axis CNC machine to cut your board precisely how it was designed.
03
Sanding & Smoothing
Finessing the details.
The deck is hand sanded, using specialty tools for smaller spaces. In many cases, the deck may not meet our standards of quality at this point, so it is cut again until the board passes our quality tests.
04
Painting & Sanding
A stroke of genius.
Each board is hand painted and hung to dry in our paint booth. Once dry, we go back over the board to sand down to the details.
05
Clear Coat
Protect and preserve.
Several layers of clear coat are applied to protect your board and the design.
06
Assembly
Bring it altogether.
The trucks, wheels, and lights are installed and tested. Your board is ready to ship.
A ride as smooth as it is unique.
Bear Walker is constantly finding innovative ways to make his boards the best on the market while remaining affordable to the masses. A Bear Walker skateboard is a high-quality custom-designed board that surpasses all expectations, from design to functionality.
High-End Components
We use premium Hyberium wheels and trucks.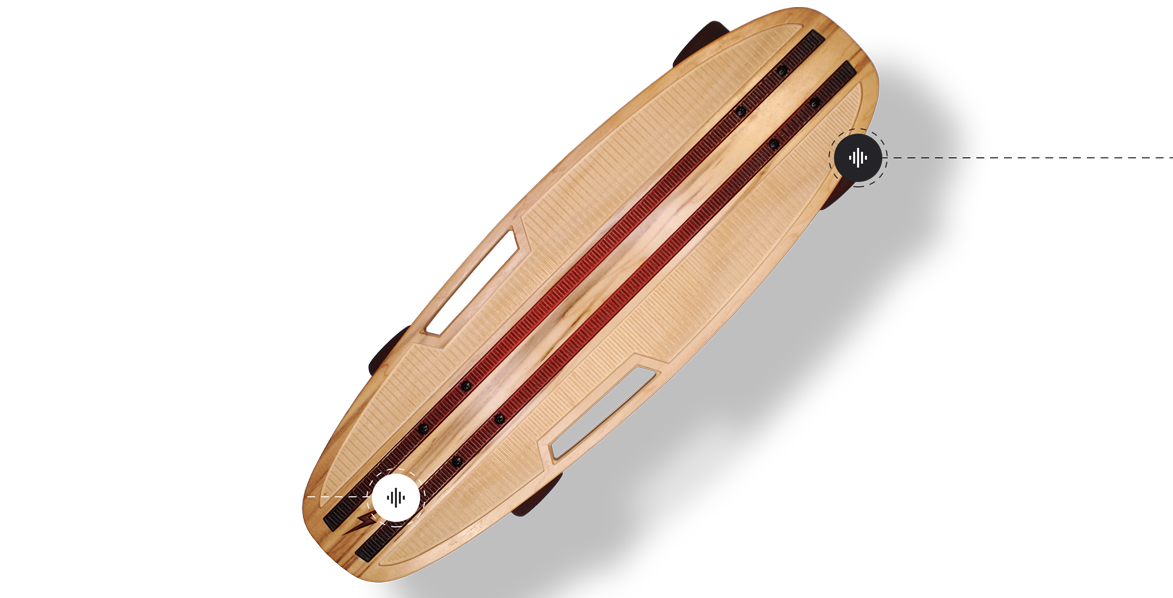 Custom Milled Grip
Our milled grip is superior to standard grip tape.
A board that stands up and out.
All boards are made with the highest quality maple 9-ply wood without fillers. This maple allows the board to flex slightly but still remain strong for the smoothest ride possible. Oil-based stain and five layers of clear-coat ensures its durability in any weather.
Got questions?
Answers to all your questions, except that one.
Contact Us
Does the board have grip tape?

No. We custom mill the grip pattern into the board design. This makes the grip of your board more durable and stronger than traditional grip tape.

Are your boards rideable?

Definitely. They're pretty, but they're also some of the smoothest cruisers on the market.

Do you ship to my country?

We ship worldwide! Just keep in mind, some countries charge taxes on imported goods. Certain collaborations may not be eligible for worldwide shipping.

How do I maintain my board?

I recommend scrubbing and dirt out of the grip with a kitchen brush. I'll put up a video of how to maintain your board soon.

Do you make custom boards?

That's our specialty! Go to the custom boards page to learn more.